ASID Interior Design Billings Index (IDBI) July 2021
Billings, Inquiries and Outlook Drop in July, but Maintain Positivity
July business performance showcased a predictable cooling-off from the record highs experienced over the last couple of months, but still displayed signs of growth.

Billings index* decreased by 3.1 points to 57.5 for July, down about 11 points from the record-setting month in April (68.6).

Even with this decline and registering its lowest reading in 2021, overall business performance records its 13th consecutive month in expansion territory (i.e., above 50).
Historically, summer months (Jun-Aug) tend to be less busy for firms and have recorded a dip in billings from June to July.

While interior design business performance in the South continues to fluctuate, experiencing at least a nine-point difference between surveys for the fourth consecutive month (June: 70.0 and July: 54.9), the three-month moving average (61.8) for the region is still the highest (Midwest: 59.0, Northeast: 59.5, West: 58.8).

Inquiries index* decelerated 5.9 points to 58.9, but still growing at a relatively high rate.

Similar to billings, inquiries have historically recorded slight dips from June to July, providing strong evidence for cyclicality.

The future of interior design business is still bright as the six-month outlook continues to read higher than billings and inquiries even though it dropped 3.0 points to 62.5.

Panelists have mentioned product concerns (e.g., availability, costs, storage) as potential contributors to a lower outlook.

Concerns surrounding COVID-19 has risen to 3.14 in July from 2.68 in June (1- No concern/Business as usual to 5- High concern/Anxiety from disruption and unknown) which is the largest month-over-month increase since the question's inception starting in March 2020.

When asked about new building construction (residential and/or commercial) impacting project inquiries in their area, 33% expressed a positive impact while 19% indicated a negative one.

Panelists mentioned that they "have more work than ever" while others cite various reasons, such as funding, material availability/pricing, and scheduling issues, for projects being on hold or delayed.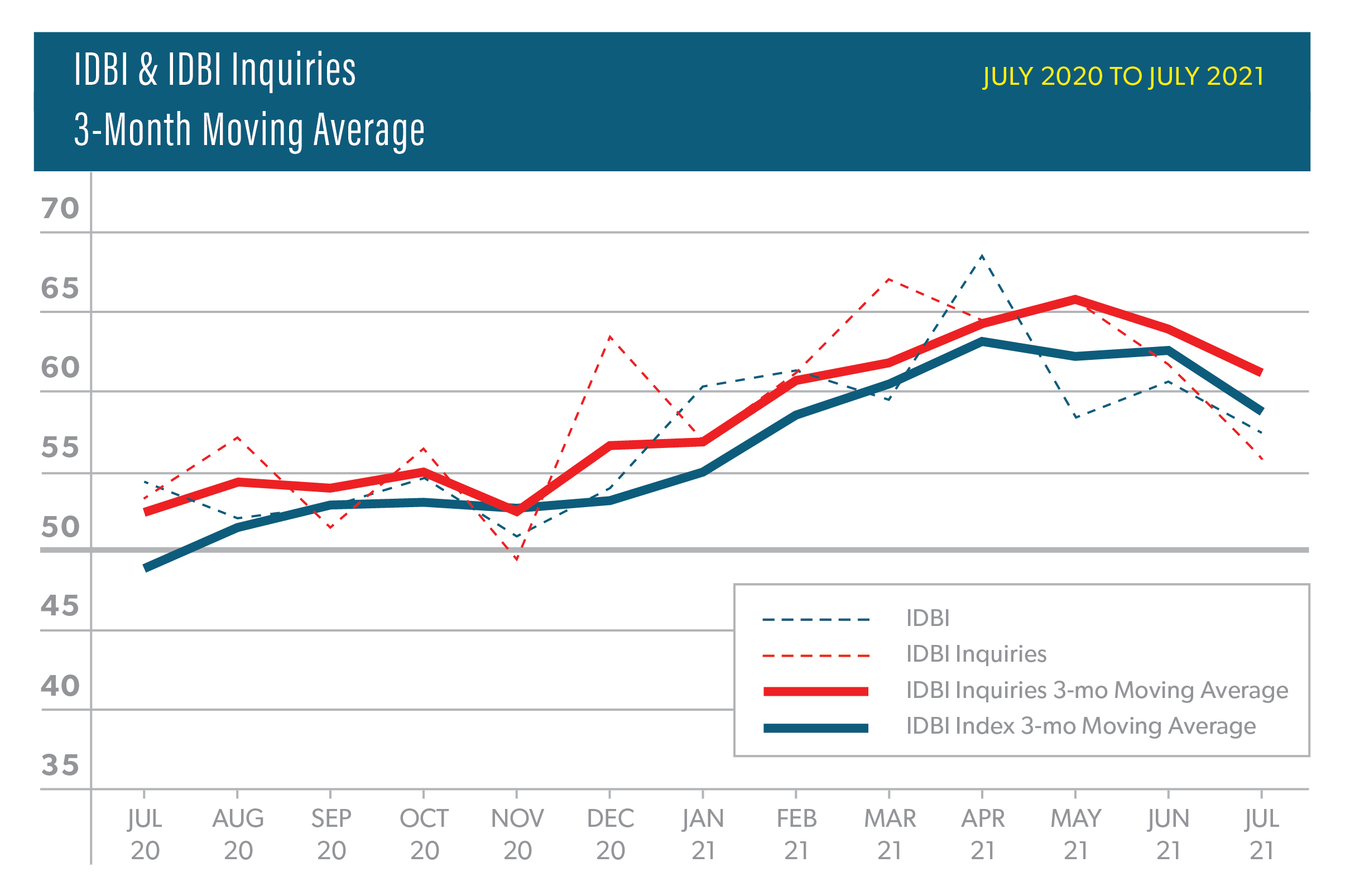 *Note: Any score above 50 represents expansion (i.e., growth) and below 50 represents contraction (i.e., decline).
Categories
Interior Design Billings Index (IDBI)