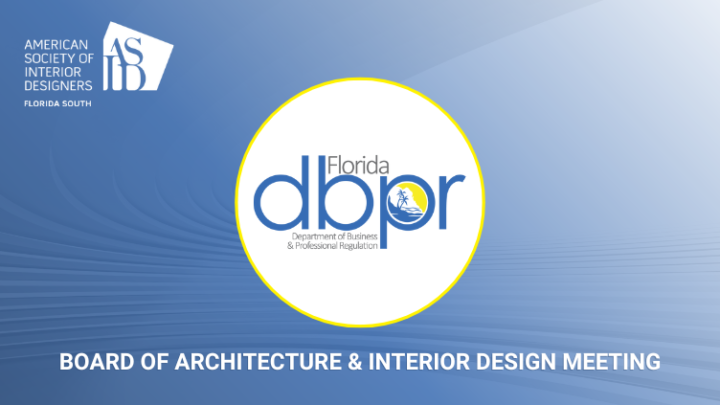 FL Board of Architecture & Interior Design Meeting (Mid To South Florida)
Description
The Florida Board of Architecture and Interior Design is responsible for licensing and regulating architects and interior designers. The board meets regularly to consider applications for licensure, to review disciplinary cases, and to conduct informal hearings relating to licensure and discipline. The board engages in rulemaking to implement the provisions set forth in its statutes and conducts other general business, as necessary.
The Department of Business and Professional Regulation supports the Governor in meeting his obligation to appoint qualified, representative and appropriate people to the important leadership roles within the department's Professional Boards, Council and Commissions. Members are appointed by the Governor, subject to confirmation by the Senate.
The Board of Architecture and Interior Design members work with the department in meeting its mission to "License Efficiently. Regulate Fairly." There are approximately 12,000 licensed Architects and 2,700 registered Interior Designers pursuant to Chapter 481, Part I, Florida Statutes, and Chapter 61G1, Florida Administrative Code.
Any Interior Designer may plan, design, and furnish interiors of residential, commercial, or industrial buildings. They may also formulate design which is practical, aesthetic, and conducive to intended purposes – such as raising productivity, selling merchandise, or improving life style. Interior Designers may also specialize in a particular field, style, or phase of interior design. In order to sign and seal interior design documents for permitting purposes, an Interior Designer must register with the Department of Business and Professional Regulation, and obtain a seal pursuant to section 481.221, F.S.
All ASID, IIDA Florida Members and unaffiliated Florida Interior Designers and Architects are welcomed & encourged to attend general session portion of the meeting.
Space may be limited, please confirm attendance by emailing Terri McEwen, Government Analyst: CLICK HERE