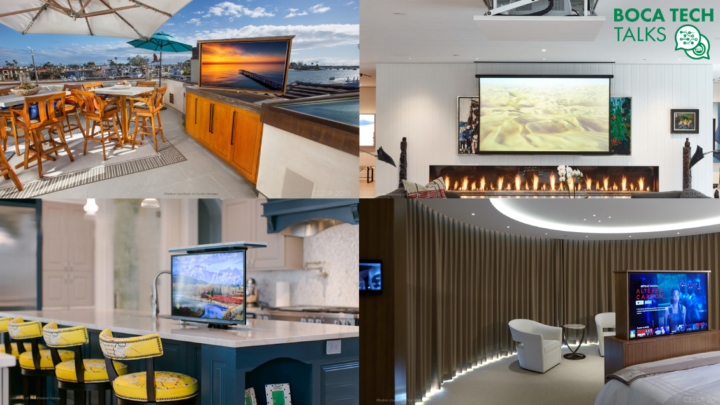 Boca Tech Talks – CEU Webinar - Hidden Technology for the Modern Home
Description
Click here to register! https://bocatech.com/webinars/
Course Description:
Home electronics should integrate seamlessly into a home's design and décor. This course reviews the three-pronged approach to hiding technology - advanced planning, design philosophy, and product selection, these being used to minimize the visual impact of electronics without compromising their performance. Specific challenges and recommendations related to hiding video displays, projectors, speakers, controls, cameras, equipment racks, and more will be addressed. This course talks about innovative and creative ways to lessen the visual impact of electronics by making them low-profile, hidden or camouflaged, or possibly even invisible!
Learning Objectives:
Review various residential systems and technologies and the unique approaches that can be used in the concealment process.

Discuss how advance planning, design philosophy, and product selection affect the proper functionality of the installed products without compromising design integrity and aesthetics.

Discuss methods and strategies for hiding technology in safe, convenient, and secure methods.

Analyze technology implementation planning process.
Continued Education
Credit: 1.0 LU/HSW
Course Number: COI054
Subject Code: N/A
Designation(s): General Knowledge
AIBD
Credit: 1.0 CEU
Course Number: COI054
Subject Code: N/A
Designation: N/A
NARI
Credit: 1.0 CEU
Course Number: COI054
Subject Code: N/A
Designations: All
IDCEC
Credit: 0.1 CEU
Course Number: 105526
Subject Code: 2.10
Designation(s): General Knowledge
Host: Jeff Galea, Founder and CEO of Boca Tech and Automation
Instructor: Michelle Guss, Director of Residential Business Development for North America
Click here to register! https://bocatech.com/webinars/