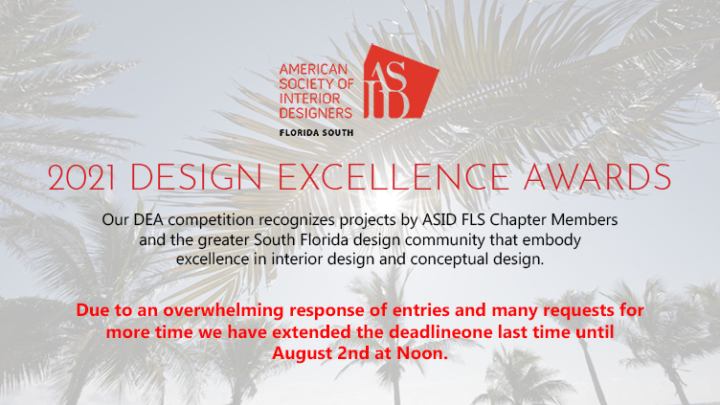 2021 Design Excellence Awards One last extension. All entries must be completed by Monday, August 2nd by noon!
Description
ASID Florida South's Design Excellence Awards is one of the longest-running awards in the chapter's history. This design competition recognizes projects by ASID FLS Chapter Members and the greater South Florida design community that embody excellence in interior design and conceptual design.
Winner project images are posted on the ASID Florida South's social media platforms and the ASID FLS Chapter Website.
Winners of the prestigious Design Excellence Awards are announced and recognized at the DEA Gala, the Chapter's largest event.
The winner of each competitive category is featured in the annual Design Excellence Magazine. The distribution of this magazine includes commercial properties, ASID Florida South Chapter Members, and targeted affluent South Florida residential areas to maximize winner exposure. Each 2021 winner receives 10 complimentary copies for personal use and distribution.
$500 cash award to each of the best of category winner for Residential, Commercial and our new categories Emerging Professionals and Conceptual Design. For a total of $2000 in awards.
One Design Excellence Award Certificate will be presented per category, unless there is a tie in that category. 2021 Design Excellence Awards will be framed ASID embossed Certificates.