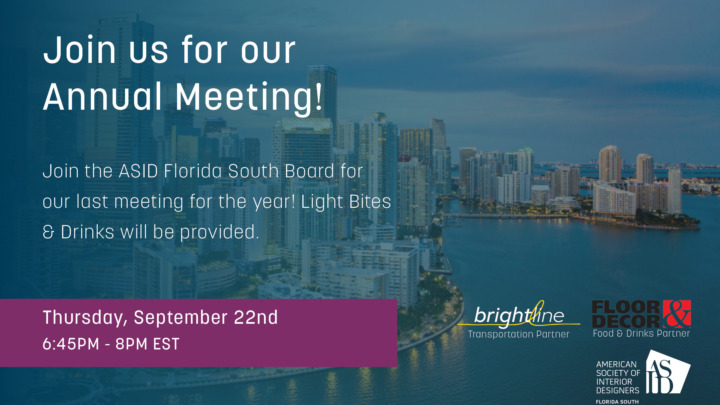 ASID Florida South Annual Meeting
Description
Please join the ASID Board of Directors for our Annual Meeting! We will celebrate the successes of the past year and swear in the new Board effective October 1st, 2022. Light refreshments & drinks will be served.
Transportation:
ASID FLS CHAPTER is proud to partner with Brightline and offers all members and guests attending 'GATHER' and the 'ANNUAL CHAPTER MEETING' a discount on train tickets!
Tickets are available starting 8/18 thru 9/25. Please book your tickets by calling Brightline Reservations @ 831.539.2901 or book online: https://www.gobrightline.com/. Travel Discount Code: ASID22 for Smart Ticket. Transportation is free within 5 mi. Transportation is limited; book early.
Doors open at 5:00 PM; Annual Meeting Starts: 6:45 PM -8 PM. This meeting will be held in person at the Floor & Decor Studio in Miami (3814 NE Miami Ct, Miami, FL 33127)!
Click the link for the ASID FLS ANNUAL MEETING AGENDA: Annual Meeting Agenda
Click the link for the Zoom Meeting: Zoom Meeting
Seating is limited: Reservation required. Any donations made will go to the ASID Scholarship Fund.