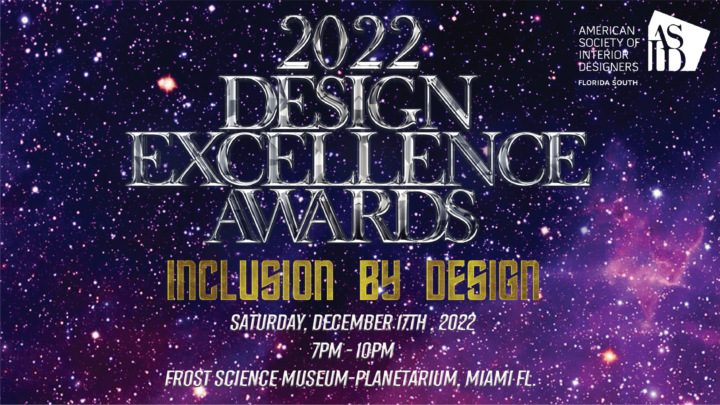 2022 Design Excellence Awards "Inclusion by Design"
Description
Experience the excitement as we celebrate South Florida's Design Excellence!
INCLUSION BY DESIGN
American Society of Interior Designers, Florida South Chapter is striving to foster continued collaboration and relationships throughout our design community including the 2022 Design Excellence Awards.
Please join us for an evening of excitement and memorable experience at Frost Science Museum - Planetarium.
Planetarium Atrium Reception: Enjoy specialty cocktail on arrival, with choice of red, white + sparkling wines, three beer varieties and soda options. A sampling variety of foods at Carvery Station.
Planetarium Dome Experience & Awards Presentation: Theater Style Seating. Planetarium Dome Experience Show, Award Presentation, Laser Light Show.
Planetarium Atrium Celebration: After show mingle & collaborations.
SCHEDULE:
7:00PM - 8:15PM - Planetarium Atrium Reception
8:15PM - 9:30PM - Planetarium Dome Experience & Awards Presentation
9:30PM - 10:00PM - Planetarium Atrium Celebration
MEDIA SPONSOR & PRESENTER: